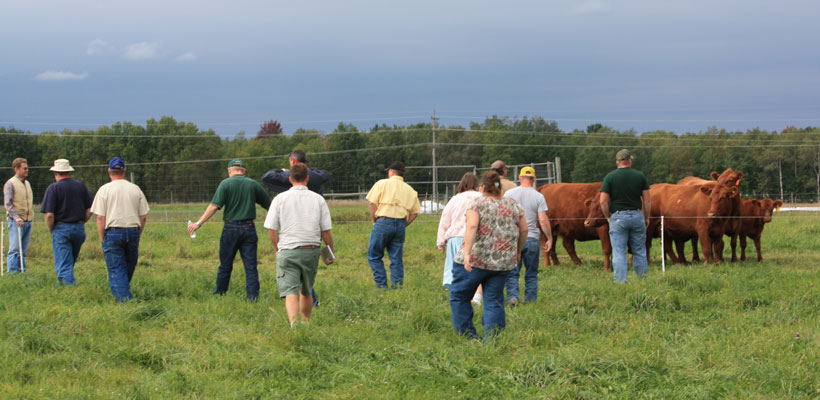 Jan. and Feb. 2015 – Winter Field Crop Management Seminars.  Sponsored by MSUE, the Corn Marketing Program of Michigan, the Michigan Soybean Checkoff and the Michigan Wheat Program, these programs held around the state will cover the latest MSU field crop research, including management of forages as cover crops. Online registration here.
Wedn. Feb. 18, Cabela's, Dundee, MI
Thur. Feb. 19, Van Buren ISD Conference Center, Lawrence, MI
March 10, 2015 – Agriculture For Tomorrow Conference, Escanaba, MI.  Forage-related topics include: Improving Forage Productivity on a Shoestring Budget, Upper Midwest Grass Finished Beef Production, Birdsfoot Trefoil, Getting Started with Cover Crops, Farm Bill Programs, Livestock Systems to Improve Soil Organisms, Upper Peninsula Variety Trial Crop Update, Cover Crop Economics, Utilizing Cover Crops as Livestock Feed, Soil Test Basics, Right to Farm and Siting GAAMPS.   Online registration is here.
March 12, 2015 – Great Lakes Forage & Grazing Conference, East Lansing, MI.  We will be back at the Kellogg Center for the annual meeting of the Michigan Forage Council featuring a full day of cutting-edge presentations on our theme of "Improving Forages with Healthy Soils". Exhibitors are welcomed (contact Jerry Lindquist for exhibitor information).  Online registration for the conference is here.
June 24, 2015 – MSU Forage Research Field Day, East Lansing, MI.  This new annual event will feature a field tour of campus-based forage research and updates on research results.  Watch this site for details when available.
Sept. 16-18, 2015 – Grassfed Exchange Conference, Mt. Pleasant, Michigan.   This is the annual conference of the Grassfed Exchange, a coordinated effort of producers and buyers of grassfed genetics.  This year Michigan is honored to host their annual conference with the theme of "Generations of Opportunity: Sun and Water, Sons and Daughters."  Online registration is here.
Dec. 13-16, 2015 – 6th National Conference on Grazing Lands, Grapevine, Texas.  Meeting of the National Grazing Lands Coalition (formerly called the Grazing Lands Conservation Initiative).
Jan. 10-13, 2016 – American Forage & Grassland Conference, Baton Rouge, Louisiana.  Annual meeting of the American Forage & Grassland Council, which is the parent organization for the Michigan Forage Council.
ARCHIVES of Past Conferences