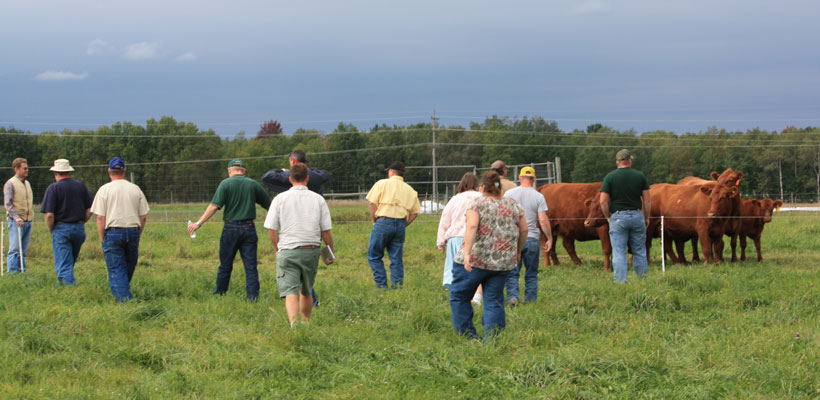 June 24, 2015 – MSU Forage Research Field Day, East Lansing, MI.  This new annual event will feature a field tour of campus-based forage research and updates on research results.  Watch this site for details when available.
Aug. 25, 2015 – UPREC Field Day, Chatham, MI.  This field day will showcase forage, beef cattle, malt barley, and horticulture research at MSU's research and extension center in the Upper Peninsula.  Watch this site for details.
Sept. 16-18, 2015 – Grassfed Exchange Conference, Mt. Pleasant, Michigan.   This is the annual conference of the Grassfed Exchange, a coordinated effort of producers and buyers of grassfed genetics.  This year Michigan is honored to host their annual conference with the theme of "Generations of Opportunity: Sun and Water, Sons and Daughters."  Online registration is here.
Sept. 24-25, 2015 – MSU Grazing School, Kellogg Biological Station, Hickory Corners, MI.  Details to be announced.
Dec. 13-16, 2015 – 6th National Conference on Grazing Lands, Grapevine, Texas.  Meeting of the National Grazing Lands Coalition (formerly called the Grazing Lands Conservation Initiative).
Jan. 10-13, 2016 – American Forage & Grassland Conference, Baton Rouge, Louisiana.  Annual meeting of the American Forage & Grassland Council, the parent organization for the Michigan Forage Council.
ARCHIVES of Past Conferences
2015 Winter Field Crop Meetings
2015 Ag for Tomorrow Conference, March 10, Escanaba, MI
2015 Great Lakes Forage & Grazing Conference,  March 12, East Lansing, MI

More presentations coming soon…