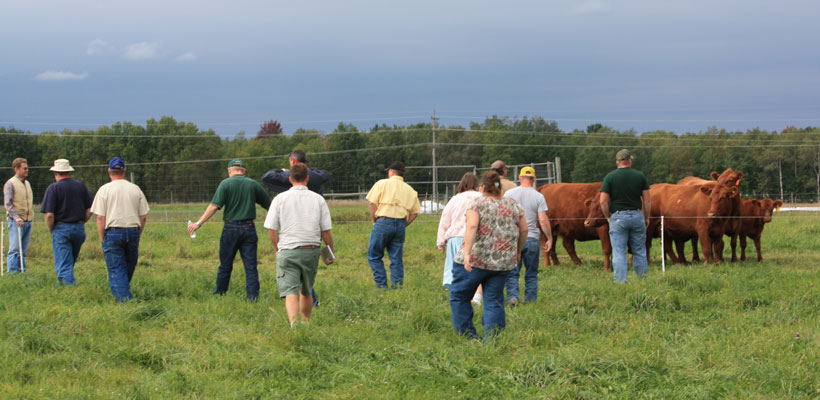 Jan. and Feb. 2015 – Winter Field Crop Management Seminars.  Sponsored by MSUE, the Corn Marketing Program of Michigan, the Michigan Soybean Checkoff and the Michigan Wheat Program, these programs held around the state will cover the latest MSU field crop research, including use of forages as cover crops. Online registration here.
Tues. Jan. 21, Shifter's Restaurant, Alma, MI
Thur. Feb. 5, Mason Technology Center, Mason, MI
Fri. Feb. 6, Sanilac Career Center, Peck, MI
Tues. Feb. 17, Bavarian Motor Lodge Inn, Frankenmuth, MI
Wedn. Feb. 18, Cabela's, Dundee, MI
Thur. Feb. 19, Van Buren ISD Conference Center, Lawrence, MI
Feb. 2015 – Cover Crops for the UP. MSU cover crop and sustainable agriculture researcher Dean Baas will be presenting information and leading discussion on practical cover crop applications for the region. These meetings are free and open to all.
Monday, Feb. 9, Rudyard Township Hall, Chippewa Co., 7-9 pm.
Tuesday, Feb. 10, 2015 – MSU Upper Peninsula Research and Extension Center, Chatham, Alger Co, 7-9 pm
Wednesday, Feb. 11, 2015 – Houghton County MSU Extension Office, Hancock, 7-9 pm
Thursday, Feb. 12, 2015 – Delta County MSU Extension Office, Escanaba, 7-9 pm
March 10, 2015 – Agriculture For Tomorrow Conference, Escanaba, MI.  Forage-related topics include: Improving Forage Productivity on a Shoestring Budget, Upper Midwest Grass Finished Beef Production, Birdsfoot Trefoil, Getting Started with Cover Crops, Farm Bill Programs, Livestock Systems to Improve Soil Organisms, Upper Peninsula Variety Trial Crop Update, Cover Crop Economics, Utilizing Cover Crops as Livestock Feed, Soil Test Basics, Right to Farm and Siting GAAMPS.   Online registration is here.
March 12, 2015 – Great Lakes Forage & Grazing Conference, East Lansing, MI.  We will be back at the Kellogg Center for the annual meeting of the Michigan Forage Council featuring a full day of cutting-edge presentations on our theme of "Improving Forages with Healthy Soils". Exhibitors are welcomed (contact Jerry Lindquist for exhibitor information).  Online registration for the conference is here.
Sept. 16-18, 2015 – Grassfed Exchange Conference, in Mt. Pleasant, Michigan!   Details will be posted here when available.
Jan. 10-13, 2016 – American Forage & Grassland Conference, Baton Rouge, Louisiana.  Annual meeting of the American Forage & Grassland Council, which is the parent organization for the Michigan Forage Council. Details will be posted here when available.
ARCHIVES of Past Conferences