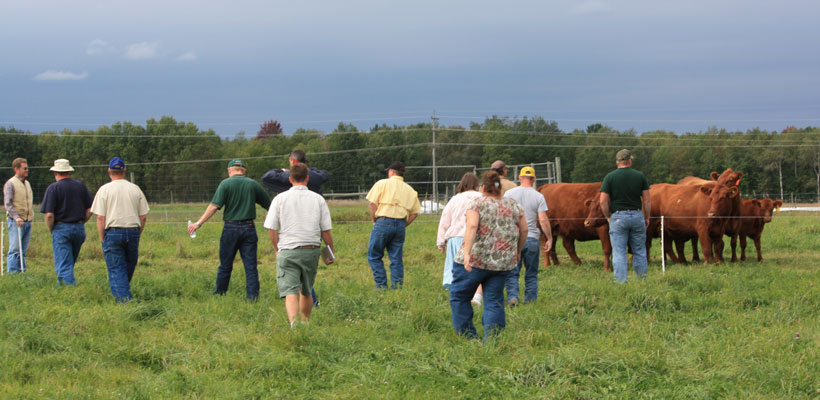 Sept. 15, 2018 – Breakfast on the Farm, MSU Beef Center, East Lansing.  MSUE has hosted 38 Breakfast on the Farm events, attracting more than 85,000 visitors, but never one on the MSU campus! The Beef Center is  excited for this opportunity to reach out to the community and student body and provide education on modern beef production. Watch this link for details.
Sept. 20, 2018 – Growing Green Improving Forage & Maximizing Results Field Day. Hosted by Single Tree Farms with NRCS, Eaton Conservation District, MAEAP, MSU Extension, Michigan Cattlemen's Association, Michigan Angus Association,  & Eaton County Farm Bureau. Contact Eaton County Conservation District (517-543-1512 x15) for more information.
CANCELLED due to unforeseen situation, Sept. 25, 2018 – Jelinek Farm Pasture Walk, Davison MI. See 100 cow/calf herd plus corn and soybean cash crop operation. Contact Phil Kaatz (kaatz@anr.msu.edu) for details.
Sept. 27-28, 2018 – Beginner Grazing School, Video-linked from Kellogg Biological Center in Hickory Corners and Lake City Research Center in Lake City, Michigan. Click here for registration. Contact Misty Klotz (klotzmis@msu.edu, 269-671-2402) for more information.
Nov. 1, 2018 – Cover Crop Field Day, Kellogg Biological Station, Hickory Corners, MI. Learn about the latest  cover crop research and demonstrations. Contact Brook Wilke (wilkebro@msu.edu, 269-615-4573) for more information.
Dec. 2-5, 2018 – 7th National Conference on Grazing Lands, Reno, Nevada. Sponsored by NatGLC.  Click here to sign up for conference updates.
Jan. 6-9, 2019 – AFGC Annual Conference, St. Louis, MO. Details will be announced HERE.
Mar. 5, 2019 – Great Lakes Forage & Grazing Conference, St. John, Michigan. Contact Kim Cassida (cassida@msu.edu, 517-353-0278) for more information.
ARCHIVES of Past Forage Programs
2015 Great Lakes Forage & Grazing Conference,  March 12, East Lansing, MI
2015 Ag for Tomorrow Conference, March 10, Escanaba, MI
2015 Winter Field Crop Meetings